Exterior Painting Can Quickly Upgrade Your Westchester Home's Curb Appeal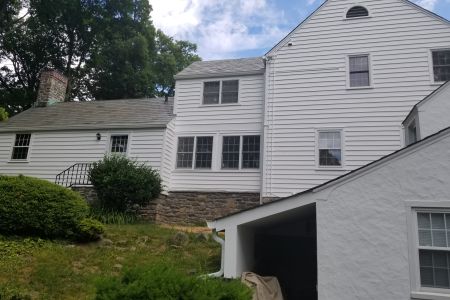 All Painting Decoration Corp is proud to offer Westchester property owners outstanding exterior painting services and unmatched customer care. Our experts know the dramatic difference a new exterior paint job can make for your home. It can elevate curb appeal, protect your building material, and help you take pride in the beauty of your residential or commercial space as though it were brand new. We provide our services at excellent rates and deliver the results you want for your property without fail. We stand by our commitment to our valued clients to make their homes the best they can be and offer no less than 100% on every job. Call All Painting Decoration Corp for all your exterior painting needs and enjoy results from the best painting contractor in town!
The Value of Exterior Painting
Exterior painting can do wonders for your property. Aside from just improving appearance, new exterior paint has a host of other benefits that you don't want to miss out on. Read on to see the difference exterior painting can make for your property and why it should be the next project on your home improvement to-do list.
Heightened Curb Appeal
Exterior painting is one of the most practical ways to achieve optimum curb appeal and get your home noticeably beautiful to friends, neighbors, and onlookers. It's especially helpful when you decide to put your home on the market as a fresh paint job will appeal greatly to any potential buyers. Make sure that your home is making an excellent first impression when buyers come for a viewing and maximize your chance of a quick and easy sale with exterior painting from us.
Protection Against Outdoor Elements
New exterior paint acts as a protective barrier for your siding that seals any cracks and minimizes wear and tear from a variety of harsh weather and outdoor elements. Investing in new paint as needed will help your siding reach its maximum lifespan and will help retain the overall quality of your home over time.
Affordability
As opposed to costly additions and remodels, exterior painting is a practical and cost-efficient way to update your home. You can get the transformation you want with a fresh coat of paint and fall in love with the look of your home all over again.
Increased Value
Exterior painting is a quick way to add value to your home without significant cost or hassle. The money you invest in quality exterior painting now will come back to with profit if you decide to put your home back on the market.
Insect Deterrent
Fresh exterior paint can also help keep insects out of your home by acting as a coating that seals off possible entry points. Any homeowner knows that the threat of insect infestation is nothing to take lightly, so taking advantage of protective exterior paint is always a wise choice where insect prevention is concerned.
To take advantage of the finest exterior painting services in Westchester, reach out to All Painting Decoration Corp and see why you'll want to do business with us for years to come! Ask also about our interior painting services to complete your home's painting transformation.