Protect Your Westchester Exterior Wood Living Spaces With Deck Painting & Refinishing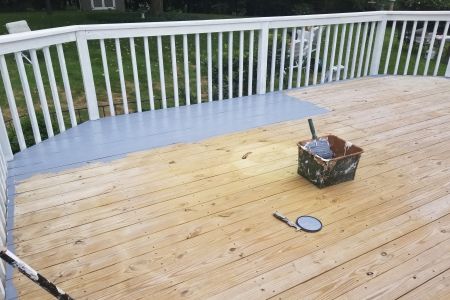 All Painting Decoration Corp provides the premier deck cleaning services Westchester property owners need to keep their decks looking spectacular and standing the test of time. Your deck faces a variety of harsh weather conditions and outdoor elements that can cause heavy wear and tear throughout the year. Deck painting and refinishing is the best way to combat these threats and ensure that your wooden deck has adequate protection from cracking, warping, fading, and all other forms of deterioration. That's where our experts can help! As the area's most reliable painting contractor, we can maintain your deck and help it reach its maximum lifespan, all while preserving its beauty.
Keep your deck looking branding new and standing sturdy with the finest deck painting services in Westchester! Call the experts of All Painting Decoration Corp today and ask about deck painting for your property. Ask also about our exceptional interior, exterior, and fire escape painting for your property!
Deck Refinishing Will Help Restore & Maintain The Luster Of Your Outdoor Deck & Patio Area
Deck refinishing does so much more than simply make your deck look better! It also goes a long way to ensure that your wooden deck stays safe from harmful elements and extreme weather conditions and boosts your home's curb appeal and overall value. You can't go wrong with this invaluable service for your property, and our deck painting pros know you'll be more than satisfied when you see your deck looking as new as if it were just installed! Read on for some of the benefits of deck painting and refinishing and waste no time in contacting us for an estimate!
Keep Your Deck Slip-Resistant
Deck painting prevents the growth of slippery substances like mold and algae that pose a slip and fall hazard to you and others. By refinishing your deck, you're ensuring the safety of your family members, friends, and any other visitors to your home.
Preserve Your Deck's Quality
Deck painting and refinishing highlights your deck's beauty no matter its age. Fresh paint restores your deck's vibrant color and masks any minor imperfections so that your outdoor area always looks flawless. The stain also enhances the natural wood grain of your deck for a natural and effortless look. By investing in deck painting services, you're preserving the beauty and quality of your deck for your lasting enjoyment.
Increase Your Deck's Lifespan
Proper deck care guarantees that your deck won't succumb to deterioration before its time. Fresh paint or stain provides a barrier against decomposing substances like mold and mildew that can cause wood rot and cut short the life of your deck so that you won't face a costly and stressful replacement.
Protect Against Harsh Weather
Rain, wind, snow, and sunlight all take a toll on your deck over the years. While moisture from precipitation can penetrate deck boards and cause warping and rotting, sun exposure can also cause excessive fading that leaves your deck looking old and dull. Deck painting is the only way to minimize the effects of these natural elements and ensure that your deck doesn't become severely discolored or misshapen.