Your Local Painting Contractor in Scarsdale, NY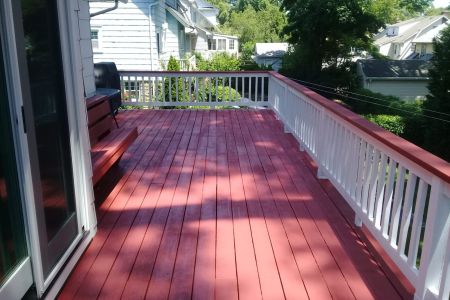 At All Painting Decoration Corp, the homeowners of Scarsdale will always have an experienced and reliable painting contractor capable of transforming their properties dramatically. Our painting pros go above the call of duty and strive to deliver top of the line results with every job we do. In addition to exceptional interior and exterior painting, we also provide:
Hardwood flooring
Pressure washing
Light carpentry
Drywall Repair
Fire escape painting
And more!
If you want to give your Scarsdale home or commercial space an updated look for a great rate, then you need to reach out to All Painting Decoration Corp and ask about our top-quality house and commercial painting.
Add Value To Your Home With Scarsdale Interior Painting
If you're looking to put your home on the market, then you should consider professional interior painting services to add resale value and make your house more appealing to potential buyers. A fresh coat of paint in your home can make an excellent impression on interested buyers and get quality offers rolling in faster. Don't let old, outdated paint stand between you and a quick, profitable home sale. Update your house with interior painting through All Painting Decoration Corp!
Enjoy Complete Satisfaction And Superior Client Service From The Leading Scarsdale House Painter
At All Painting Decoration Corp, our experts prioritize your satisfaction with our work above all else and strive daily to give the best customer service of any painting contractor in the area. Whether you need painting for your residential home, or you're looking to complete a largescale commercial project, our team won't let you down. Read our reviews and testimonials to see why we're the local company Scarsdale homeowners praise and continue calling back. If you want to invest in quality painting or home repair, then give us a call today and get more information about our services!
Prevent Water Damage With Professional Gutter Cleaning
Your gutters have the vital job of guiding excess rainwater away from your home so that it can't damage your other exterior installations. When gutters become clogged by dirt, dead leaves, and other debris, you could face water damage to areas like your roof, foundation, and fascia that could result in the need for repairs. Regular gutter cleaning is necessary to keep gutters functioning properly and ensure that they can do their job without issue. Gutter cleaning also prevents pests like insects and mosquitoes from making a home in your gutters. If your Scarsdale property needs gutter cleaning for a great price, then All Painting Decoration Corp is here to serve you! We specialize in gutter cleaning that easily clears out any clogs and keeps your gutters working their best. Call us today to ask about gutter cleaning for your property