Keep Your Westchester Gutters Free Of Debris With Gutter Cleaning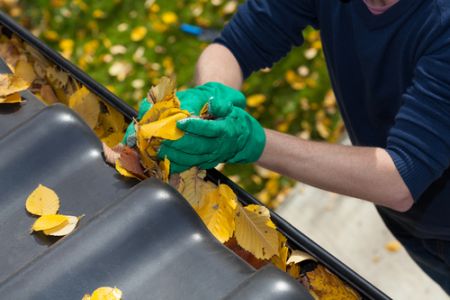 If your Westchester property is suffering the effects of clogged gutters, then you need the expert gutter cleaning services of All Painting Decoration Corp! Our professional pressure washing gives your gutters the deep clean they need to get back into proper working order.
The Importance of Gutter Cleaning
We all know gutters have a crucial role in protecting your home from the effects of excess rainwater. Without them, this water can buildup and cause a host of problems for the exterior installations at your house. From wood rot on your to drowned landscaping and everything in between, clogged gutters are not something you want to ignore. The good news is that you can always rely on us to keep your gutters clear of debris and standing water and functioning without issue. Read on to see the importance of gutter cleaning and how it can help protect your home from common problems.
Exterior Protection
Regular gutter cleaning ensures that exteriors like your roof, foundation, and fascia don't suffer water damage from pooling rainwater. To leave gutters clogged is to risk debilitating damage to these areas that could result in expensive repairs. It could also mean risking your landscaping as overflowing water can drown your flowers and other plants. With routine gutter cleaning, you can rest assured that your other exterior features won't face crippling water damage.
Pest Prevention
Insects, birds, mosquitoes, and other pests are attracted to clogged gutters as they make a good place to build nests. Once these critters settle in your gutters, they're sure to multiply in time. Gutter cleaning keeps pests from making a home in your gutters and making clogs even worse. There's no hassle quite like dealing with a pest infestation, and gutter cleaning is one service that can help you avoid that dire situation.
Gutter Preservation
Dirty, neglected gutters can suffer undue deterioration and may even face early replacement. Excess water leads to the development of mold and mildew, both of which result in the decay of your gutters, fascia, and roofing material over time. Pooling water also adds excess weight to the inside of your gutters and your downpipes, which can put a strain on the brackets holding them in place. If brackets give out, then your downpipes can become detached and cause exterior damage to your home. Gutter cleaning prevents excess strain and ensures that downpipes stay securely fastened in place.
For all your gutter cleaning needs in Westchester, rely on All Painting Decoration Corp! We'll deliver the top-notch results you'd expect from only the finest professional home service company in the area! Don't forget to ask about our exterior painting, pressure washing, and other exterior services to get your home looking its best from top to bottom!