We Complete Thorough Fire Escape Painting & Refurbishing Services In The Greater Westchester Area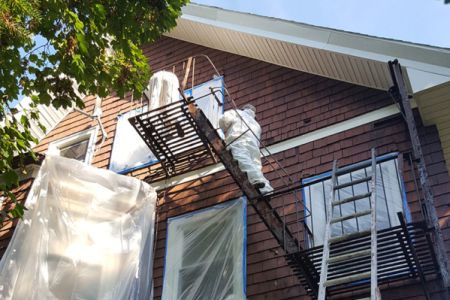 Fire escapes are a prominent and beloved feature of many New York cities and give architectural value to many apartments and commercial buildings in the area. With All Painting Decoration Corp, Westchester has a reliable painting contractor for all its fire escape painting needs. Our team of pros specializes in quality exterior painting that keeps your fire escape from rusting and disintegrating over the years. We'll remove any loose and peeling paint, scrape away any rust present, prep the bare metal for a new coat, and use only top-quality paint and tools to give you impeccable results and a fire escape that looks new.
Keep Your Fire Escapes Working Properly
Fire escape painting not only improves the look of these fixtures, but it also ensures that they stay in good working condition and don't deteriorate prematurely. Fire escape painting also helps to ensure that your fire escape meets state regulations and can pass an inspection when the occasion arises.
Keep your building's fire escapes functional and looking their best with the finest fire escape painting services in Westchester. Call All Painting Decoration Corp today to schedule service for your commercial or residential building.