The Importance of Deck Refinishing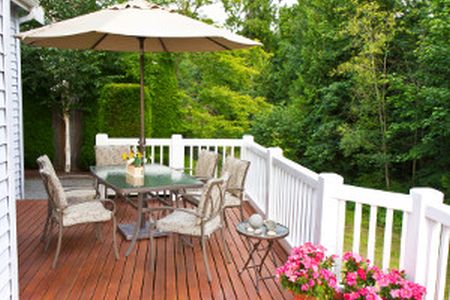 Your deck is your home's outdoor gathering space, a place where you and your loved ones can spend time and make memories together during the loveliest seasons of the year. To keep this installation looking its best and holding up well over time, you need quality deck refinishing services. At All Painting Decoration Corp, our team specializes in exceptional deck refinishing that ensures your deck reaches its maximum lifespan and remains a beautiful area for you and your family to enjoy. Read on to learn some of the benefits of deck refinishing!
Increased Value
Deck refinishing gives your wooden deck a fresh and vibrant look that increases your home's curb appeal and resale value if you decide to move. Not only does a newly refinished deck appeal more to prospective buyers, but it also gives them an indication that your home has been well-maintained over the years. When selling your home, exteriors like your deck need extra attention so that your home will always make a positive first impression on interested buyers.
Safety
Slippery growths of mold and algae can grow on your deck's surface and create a slip and fall hazard for you, your family, and any guests to your home. As a homeowner, you want to ensure that all areas of your property are safe for everyone. That's why refinishing your deck to keep it slip-resistant is crucial over the years. Don't let a slippery deck cause injury to those you love. Keep your deck safe for everyone by investing in deck services as needed.
Increased Longevity
Deck refinishing goes a long way to protecting your deck from the elements and ensuring that it reaches its maximum service life. Without this service, you're putting your deck on the fast track to needing replacement, a financial burden no homeowner wants to bear.
Toxin Removal
Outdoor moisture makes your deck a prime target for the growth of mold and mildew, both of which can cause deterioration of your deck boards and allergic conditions in people. With regular deck cleaning and refinishing, you eliminate the growth of these toxins and ensure that they don't cause your deck to fall into disrepair. Keep mold and mildew in check and prevent any undue damage from these contaminants with quality deck refinishing as needed.
Added Protection
Daily exposure to elements like sun, wind, rain, and organic growth can take a toll on your deck over time. The good news is that deck refinishing gives your deck an added layer of protection to defend against these elements and minimize damage from them. Reduce fading from the sun and the impact of harsh weather conditions when you invest in quality refinishing services.
Improved Appearance
There's nothing like seeing your once drab and dreary deck shining like new after a refinishing service. Your deck will have a more vibrant color and be free of any unsightly grime buildups and growths that were previously bringing down its appeal. With refinishing, you can say so long to unattractive blemishes on your deck and enjoy a renewed outdoor space that will wow friends and neighbors at your next backyard barbecue!
With so many benefits, you'd be remiss to pass up on deck refinishing for your property. If you're in the Westchester area and looking for refinishing services, then reach out to your leading local painting contractor, All Painting Decoration Corp! We can't wait to transform your deck. Don't forget to ask about pressure washing, gutter cleaning, and our other exterior services to get your property looking its best from top to bottom!